Xiaomi eco-system company "Kingsmith" made this cool gadget, a treadmill that incorporates new innovative features that will leave you with your mouth open. If you are one of those people who talk about starting to go to the gym on Monday but you never manage to do it, you don't have any more excuses.
Not so long ago, the IFA 2019 exhibition was held, where in addition to numerous new products, much attention was paid to the real implementation of the concept of a "smart" home. Everything goes to the point that soon we will not need to make unnecessary gestures for ordinary tasks, such as cooking, washing, buying food and cleaning. What can I say, right now, to turn on / off the lights and household appliances, just say a voice command? This is all good, but low mobility is bad for our health.
One of the solutions to the problem are treadmills. There is an option to go to the gym, although most often this does not have enough time and desire. Another option is to get a treadmill home and play sports without even visiting a gym, which is especially important during a pandemic.
The WalkingPad A1 Pro being tested today is a great option for home and office, offering compact dimensions and a foldable design. Let's review this device.
A large amount of data shows that many people like to exercise at home at night, but the small space and big noise are problems. Now, this walking machine is born to solve your troubles and let you enjoy your own exercise moment. Newly upgraded brushless motor, excellent noise reduction effect allows you to run quietly and away from neighbor complaints. Its compact size and foldable design make it easy to store under a desk, no problem used in small rooms. Two sports modes can be selected, manual mode and automatic mode, you can choose at will according to your habit. It is very convenient to get exercise information through the LED panel, and you can also connect to APP or Xiaomi TV to view exercise data at any time. At the same time as ensuring sports comfort, we also provide safety protection to make you feel more at ease. Say goodbye to the gym and work out at home!
Main Features:

Pro as its name
Newly upgraded brushless motor, excellent noise reduction, more stable operation; load-bearing increased to 100kg, the small body can also have a big responsibility
Hundreds of thousands of hours of data analysis, users prefer evening sports
Quiet exercise at home, but suffering from too much movement, was complained by neighbors. According to the statistics of WalkingPad users, 65.64% of users choose to exercise at night, and you can enjoy your own exercise moments
Newly upgraded brushless motor, lock noise and release power
The A1 Pro is equipped with a brand new brushless motor, which has a stronger ability to suppress noise during exercise, significantly increasing the load bearing capacity of the walking machine to 100 kg, and the durability and stability have been comprehensively improved
Change to a healthy way to get up
I don't want to wake up for a long time in the morning. I set foot on the walking machine, looked at the east of the sunrise, watched the rising sun, felt the flow of the morning time, made some corrections, and started a wonderful day of work and life
Opposite folding design patent, stimulate more storage possibilities
The Walkingpad has a patent for the design of foldable storage. After exercise, the rear end of the walking machine is slightly lifted to fold 180 degrees, and there are two rollers at the bottom, which makes it easier to move and store
Can also hide in a small space
The thickness of A1 Pro is only 12.9cm, so it can be easily placed even in a small space
Patent for speed control of foot sense, can realize speed change according to position
The pressure sensor will monitor the movement area where the athlete is located in real time, and the speed can be adjusted freely according to its foot position and walking frequency
Two sports modes, manual and automatic switching at any time
In M mode, the remote controller can be used to start, accelerate, decelerate, stop and switch modes. In A mode, the athlete can adjust the speed of the walking machine at will through the change of footsteps
Beautiful and easy-to-use remote control, comfortable to hold without leaving your hand
The seemingly simple shape of the remote control, we have gone through hundreds of thousands of hand model optimizations, only to get the exquisite and simple shape now, ingeniously combined with the soft lanyard, long-term adjustment is not easy to fall
Slim sports platform, safe up and down, sports do not disturb the people
The walking platform with a height of only 57mm makes it easier and safer for athletes to walk up and down the walker. At the same time, the slim motion platform greatly compresses the space with the ground, further reducing the motion noise
Multiple intelligent interconnections, multiple user-friendly designs
A1 Pro can be linked to the Mijia APP and connected to the Xiaomi TV. When watching TV while exercising, sports data can appear in the upper right corner of the TV; when going out to work, the sports data can be checked at any time
A1 PRO walking machine supports Xiaoai classmates, intelligent voice control of your home walking machine
Multiple safety protections, walk at home with peace of mind
Let users rest assured that the whole family is at ease is our mission, we have repeatedly verified every detail, so that every user can quickly familiarize, use the walking machine more easily and safely.
Xiaomi launched a variety of products for the exercise, as well as the Smart Weight Scale or the Move It, resistance band, but with this new product presented Indiegogo crowdfunding platform, you will find a new way of exercising, because it is the treadmill called WalkingPad R1 Pro
Developed with running and walking modes, WalkingPad R1 Pro accommodates your daily exercising needs at the place you prefer. WalkingPad R1 Pro is 90% space-saving than the traditional treadmill and can be easily folded and stored with the help of double folding design and smooth-rolling wheels.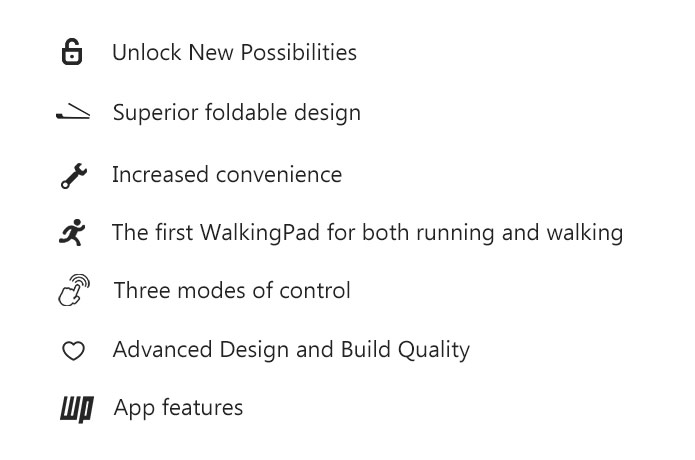 Conventional treadmills are huge and occupy unnecessary space. The WalkingPad R1 Pro incorporates a unique dual folding mechanism, the deck and handle can be easily folded up for compact and simple storage.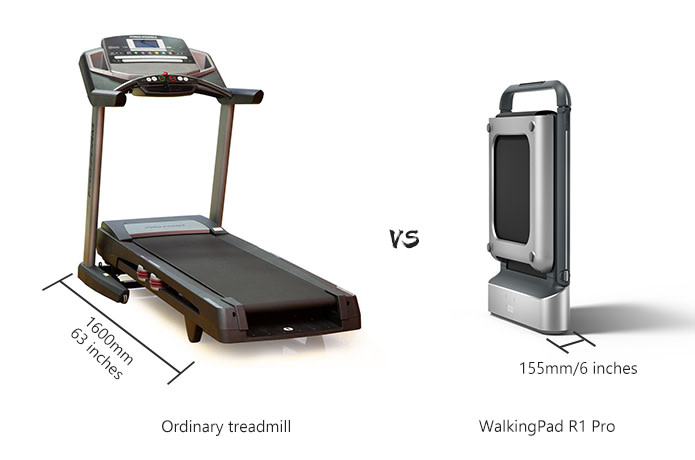 WalkingPad R1 Pro is your perfect exercise buddy that allows you to stay healthy under different scenarios.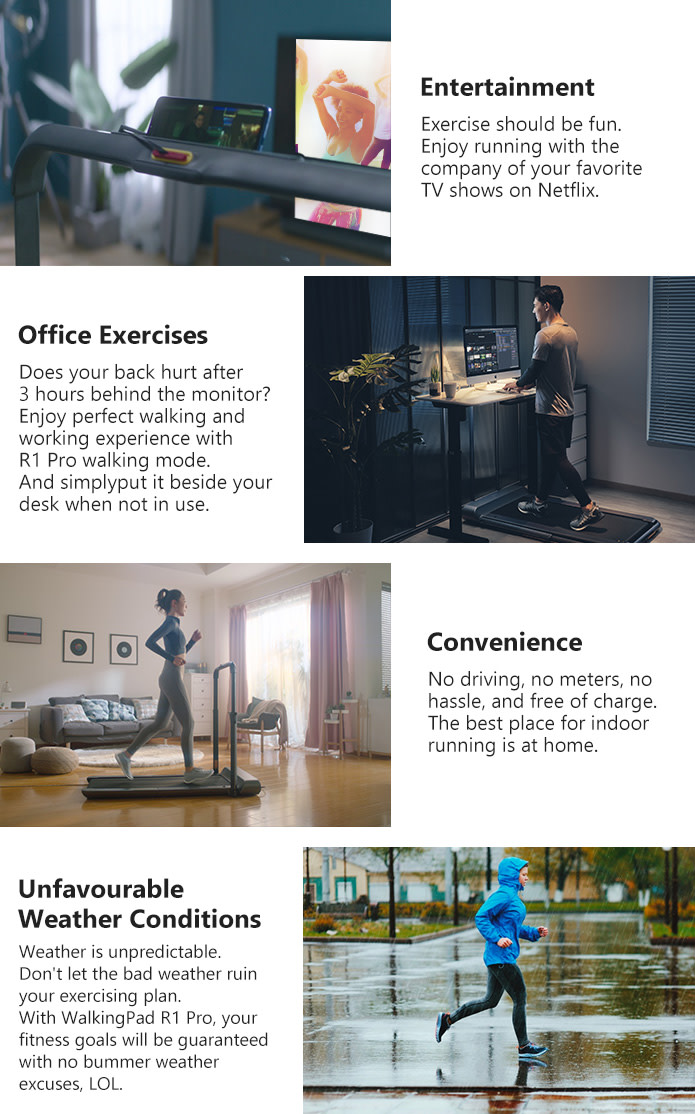 Learn from the feedback of our previous customers, we redesign the WalkingPad with the capability to serve your running need. We also reshape the WalkingPad by adding a balancing handle and prolonging the deck for the better running experience.


With smooth-rolling wheels attached, the WalkingPad R1 Pro is guaranteed for easy transport.

WalkingPad R1 Pro can be easily folded up for compact and simple storage.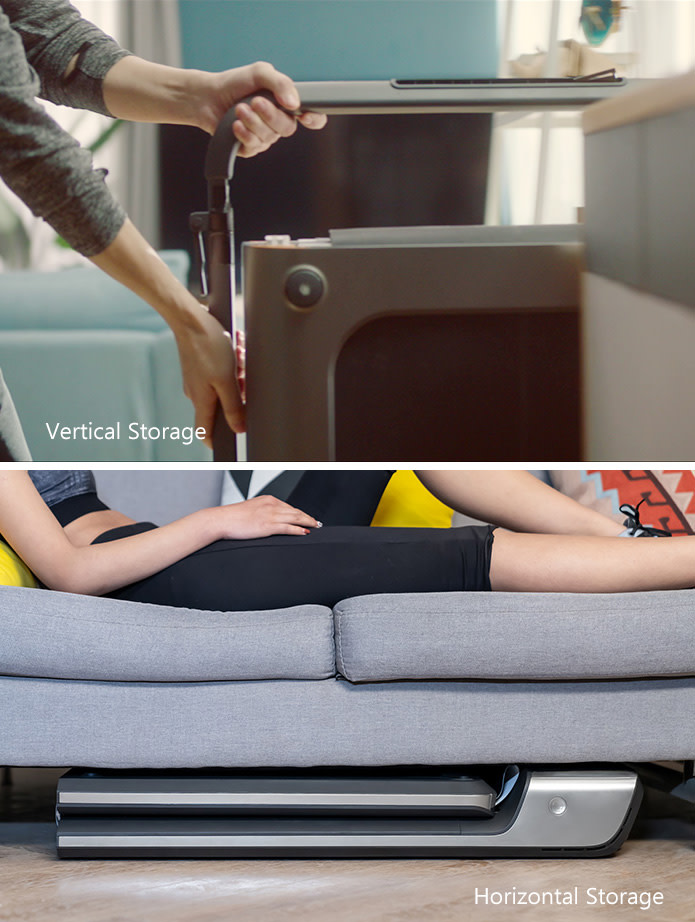 WalkingPad R1 Pro can be controlled in three ways. Under manual mode, it can be controlled used the remote control or the KS Fit APP. Alternatively, it can be controlled by feet under the auto mode to provide greater convenience.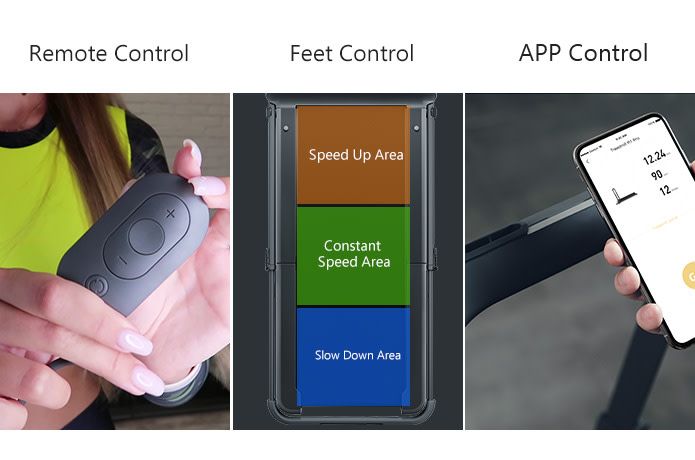 By using an aluminum alloy frame, the durability and stability of WalkingPad R1 Pro are significantly enhanced. We improved the power of the motor but also reduced the noise level at the same time. Additionally, the EVA cushioning softens the impact on your knees and the anti-slip running belt will provide a better grip.


We designed a dedicated slot for phone and tablet on the handle, so you can always stay entertained and connected.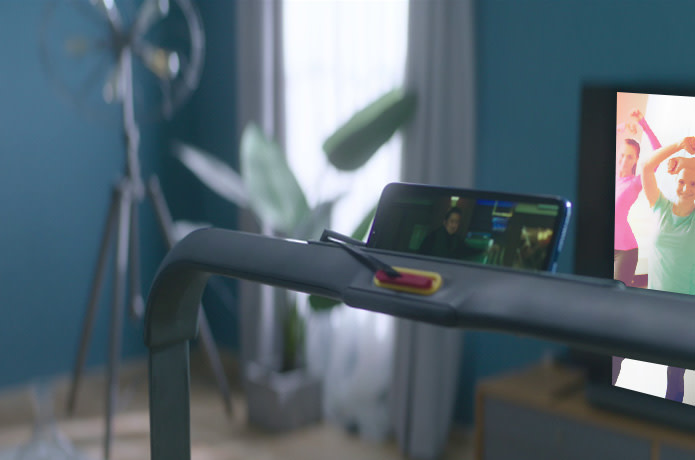 The WalkingPad R1 Pro has a newly added safety clip and front handle to keep you safe while you exercise. The handle provides additional balance while the safety clip acts as an emergency stop button.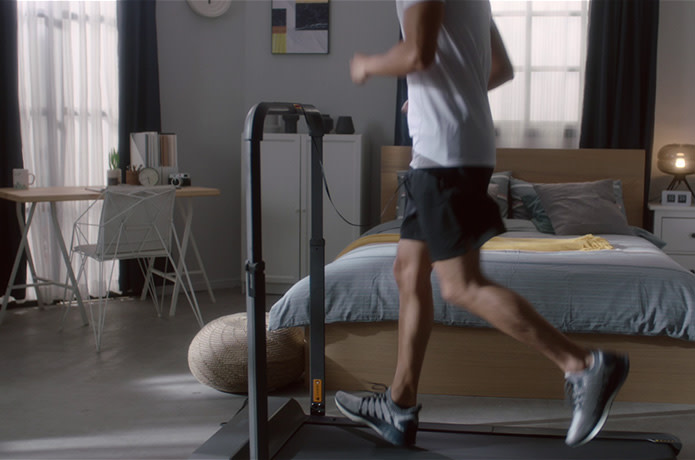 The LED panel sits at the front of the WalkingPad R1 Pro helps you to monitor your speed, distance and workout time.

WalkingPad R1 Pro can be controlled via KS Fit APP in which has a variety of training options.